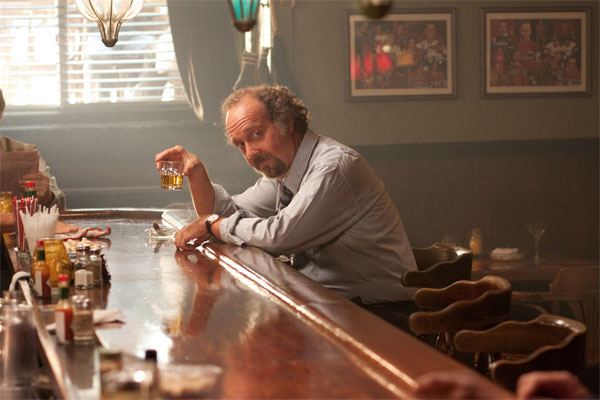 Paul Giamatti plays Barney Panofsky in Barney's Version, one of two and a half movies I saw tonight. Thanks to Moochie's very first non-grandma sleepover and Phin's rehearsal, I had a night to play Academy Awards catch up. And I did — happily.
Barney's version is 134 minutes long and covers thirty-plus years. The number of false notes hit by
Giamatti
by my rough count?
You
never
see him acting, and his performance is the best I've seen in ages. If the movie's not playing anywhere near you, catch up on
Netflicks
and thank me later. It'll depress you, but you can't have everything. I confess — I cried.
But then, I seem to be a soft touch these days;
The Kids Are All Right
got me too.
Black Swan
?
A couple of winces at fingernaily things, a few unintended laughs at sad, scary Barbara Hershey's character, but no tears.
Tonight's "half" movie was
The Fighter
, which I walked into because it was empty and I was was early for Black Swan. It's not fair to judge based on half a film, but, what are you, the Movie Police?
I'm going to say the 11/19ths that I saw was a solid, workman-like good. No
Raging Bull
, but it did have one amazingly scary phalanx of sisters.
They should be up for something — best argument in favor of family planning… something. Scary Hair and makeup? Throw them something so they don't haunt my dreams?
Thanks. This has been K a b l o o e y, at the Movies. Cue the theme song?